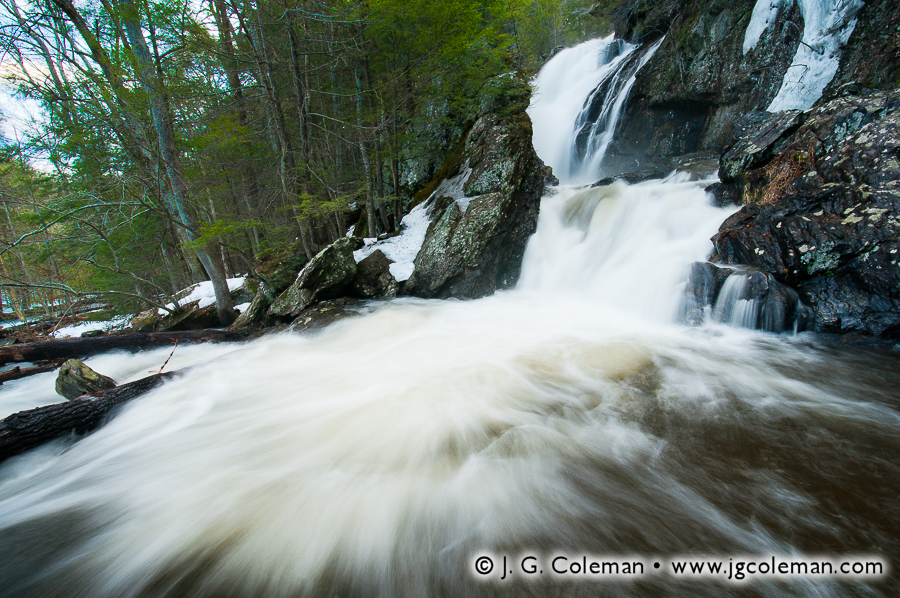 In the forests of New Marlborough, Massachusetts, just a few hundred feet north of the Connecticut border, Campbell Falls is formed as the Whiting River stages a raucous descent through a narrow, two-tiered crevasse of bedrock before crashing into the gorge below and joining with Ginger Creek.
Boasting a drop of roughly 60 feet and generously fed by the Whiting, Campbell Falls is a rugged cataract with an invigorating wildland aesthetic. The waterfall is contained within Campbell Falls State Park, a swath of open space that sits squarely on the state line, falling within Norfolk, Connecticut to the south and New Marlborough, Massachusetts to the north. Although most of the park lies within Connecticut, Campbell Falls itself is found a stone's throw over the border in Massachusetts. Given these unusual circumstances, however, I have always seen fit to grant it honorable mention among Connecticut waterfalls.
About this Artwork
At the Foot of Campbell Falls can be purchased as a fine art print, matted and framed, from Connecticut landscape photographer J. G. Coleman.