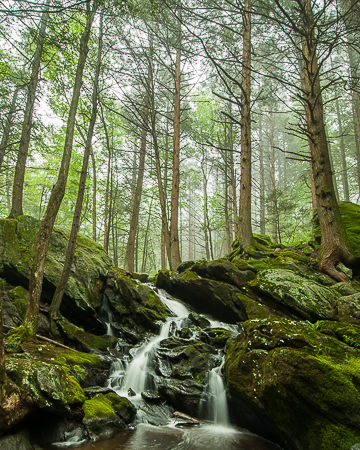 Waterfalls are among those rare natural places that enact a primeval draw upon the human mind. A brook or river may course for miles, perhaps dozens or hundreds of miles, but it is those points along its journey where it careens over ledges of time-worn stone that are sure to possess the most sought after vistas. For thousands of years, waterfalls have instilled a potent sense of place in landscapes that might otherwise be anonymous and uncelebrated.
Tucked into hillsides and gorges throughout two million acres of sprawling Connecticut woodlands, one finds a dazzling array of waterfalls. Some enthusiasts have counted them at a few dozen, while others have compiled lists of nearly one hundred. But my Waterfalls of Connecticut collection is not intended to be an exhaustive index or encyclopedic resource. It is neither a trail guide nor an almanac of statistics.
Waterfalls of Connecticut is a testament to my own aesthetic fascination with these natural monuments; a select digest of my photographic artwork which elaborates upon the inspiring and emotive qualities to be found amidst the ancient salve that is cascading water.
This project represents over five years of work —including around two hundred miles of hiking throughout all manner of season, precipitation and terrain — and I continue to further develop the collection to the present day. I've visited some of these waterfalls numerous times, scouting the landscape and seeking after the essential conditions, light, atmosphere and perspectives that would afford me the opportunity to capture an authentic sense of place.